Blog camp pune (27th june 2009) So finally i was able to attend the first unconference of my life and as expected it was fun filled day as a large gathering turned up with varied flavours in blogging. When i entered in i was a bit uncomfortable but on my way to the 7th floor of atur center i met Shahid Mukadam another blogger offcourse who claims to have a cheesy name for his blog and hence was a bit shy to publically say it loud( if you want to know just hover over his name), then along with him i came in contact with Abhinav Sonkar (another techMighty) and Himanshu Chanda of BizDharma Along with us was Sachin more And then at around 10:05 AM the conference started. Tarun Chandel kicked the event with an introduction to BLOGCAMP concept and then moving on to what and why's of blogging.The best part was
"Law of Two Feet", using your two feet you move to place where you can learn, share or enjoy. If you are not in such a place move to it or start a discussion of your and others would gather around you
What has happened is what was suppose to happen
After his words It was introduction time and all of a sudden people were back in bussiness and i was amazed to see a large number of blogger with personal blogging or technology as its key focus area.
While the introductions were on we found people ranging from 15 yrs old Farhad to scientist named Puskaraj apte who also happen to find his long time lost pal Anupam Saraph then came introduction from sneha gore who has just completed her thesis on urban blogger's. Then the most surprising for me were the people from Lokayat they were out there for a mission details on the blog. but was even more surprised (and not so surprised also) to see a large crowd who
claim befoehand only that they don't blog but are here for there marketting firm.
Then as the introduction ended Wall wiki was on its place for sesssion details to be filled up.
After filling up it looked like.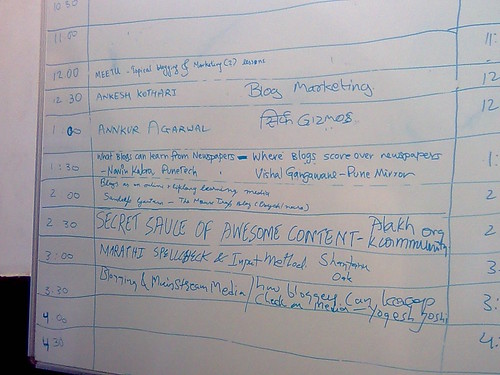 Along with all the talks going on my attention shifted to sahil Khan (@sahilk) flaunting his twttier id on his T-shirt. – that's a cool way to know people about you.
Then as people were all drifting towards different direction i came in touch with Gaurav Pant a.k.a. DEXTER (@gauravggs) from PLUG (Pune linux user group) and nikhil Kumar Verma (@gryphusnick) and then we three shared a long chat about stuff's ranging from Geek talk, geek life, How for geek's its fun while in front of the screen, and then about freelancing to Cryosleep and then topic drifting to demolition man as example of cryosleep concept to andriod cell phones and google lattitude and then shifting to stolen laptops and recovery methods.
Then i went for my first session and that was How to migrate from blogger to wordpress by Rahul Bansal (@rahul286) Slideshow here, his session was good and it showed all the hardwork they have done in creating the plugin. But could not stop myself from chipping in (advantage of unconferance) and adding some cautions about keeping wordpress installs uptodate, overall a nice and properly worked presentation.
Next i went on to attend the session by lokayat people they started with talks on social political topics which to be very frank are not my cup of tea but when it came to the topic of Free Softwares that was were I waw all ears for it. This ended on a good note. Then lunch and after that i was a bit off track with sessions mainly focused on SEO and how to make money. and then suddenly it looked as if camp will end @3:30 only.
But the day just was not ready to end yet and there we were listening to the standup comedy act by Abhishek thakkar and his finding nimmo talk
Some of the most funniest ones were
I want my nimmo to understand my word in formats like (ftp kitchen; mget food)
A matrimonial profile reading "I an looking for a panther"
A matrimonial Profile reading "I want someone to help me in my BED Situation" – by a guju girl (try speaking in gujrati accent and you will get what she want)
There can never be a love triangle (only love angles)
But still a lot of ground remained untouched or rather soft touched only
but as in the begining tarul said "What has happened is what was suppose to happen" so no regrets about the event.
On the other Hand would like to see following thing's in next camp
Talk on Legal issues involved with blogging in india.
Have a presentation on urban blogger's and blogging – sneha gore (may be the right person for this)
How to write quality content.
Talks on blog platforms other then wordpress and blogger / blogs.
UPDATE : Please check BLOG CAMP PUNE 2 REACTION CONTINUES for more details about post camp reactions